DOT Physicals
DOT Certified Medical Examinations
As of May 2014, holders of commercial driver's licenses (CDLs) are required to obtain a physical examination from a Medical Examiner certified by the New Jersey Department of Transportation. Dr. Grossman is certified as a Medical Examiner and can perform a physical examination that meets the requirements of both the New Jersey Department of Transportation (NJDOT) and the Federal Motor Carrier Safety Administration (FMCSA).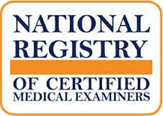 FAQ's
In order to better serve our patients and help them understand what will happen during their physical, we've compiled a list of the most frequently asked questions that we hear often. If you have additional questions not answered on this page, please don't hesitate to give us a call. We look forward to assisting you!
Who needs to get a DOT physical exam?
Any commercial driver who drives a truck, bus,vehicle that weighs over 10,000 pounds, or a passenger vehicle with more than 8 people, must receive a DOT physical exam to ensure your safety and the safety of others while you're on the road. If you are not sure if you require a DOT physical exam, feel free to contact our office for clarification.
Is your practice qualified to give this exam?
Absolutely. Dr. Grossman has taken the required courses and passed the National Registry Medical Examiner certification test. Medical examiners must understand the physical requirements of driving a commercial vehicle, as well as the rules and regulations and provided by the Federal Motor Carrier Safety Administration (FMCSA) and the Department of Transportation (DOT). We're happy to answer any questions that you have during the process about our certification.
What can I expect during the exam?
During a DOT physical, we'll perform a number of tests, including a urinalysis to screen for medical problems like blood, sugar, urine density and protein, as well as test your range of motion, reflexes, coordination and vision among others. These tests help to ensure that you're safe to drive on the road without having a medical issue that could cause harm to yourself or others.
Will I be screened for drugs use?
No, the DOT physical exam does not screen for drugs, however your employer may have a separate drug screen required of you. You'll want to check with them.
What if I'm taking certain medications?
If you're taking certain medications, please declare them on your DOT physical intake forms. If you're on daily medication, please bring the bottles with you to your visit so we can verify dosage and medication, or write it down to share with us. We also suggest taking your medication as prescribed, on your regular schedule, prior to your visit to ensure accurate test results.
Is there anything I can do to prepare for my DOT exam?
We recommend drinking plenty of water as there will be a urinalysis test.
Still Have Questions?
Contact our practice today to schedule your DOT physical.
CONTACT US »

DOT Physicals Dayton, South Brunswick, Highland Park, Rutgers Community NJ
Grossman Chiropractic & Physical Therapy