Auto Injury Treatment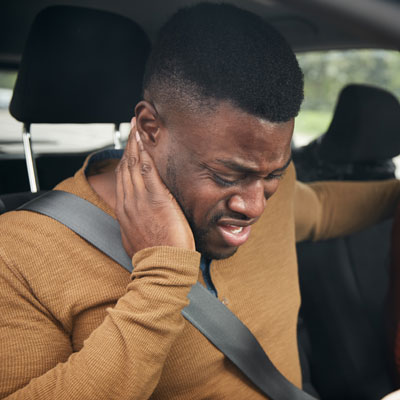 Find Help Quickly
Have you been involved in an automobile accident? If so, don't wait to seek care, even if you believe your injuries are minor.
The stresses put on the body during a motor vehicle accident are typically much more severe than the average patient. The sooner you can begin care, the better chance you have of getting a proper diagnosis. Properly diagnosing problems early in the process can prevent problems from progressing and reduce the chances of permanent damage.
FAQ's
If you're injured in an auto accident, we understand better than most how difficult the road ahead can seem. We're proud to offer patients the care they need, when they need it most.
To help you feel comfortable and better understand our care plans surrounding auto accidents, we've compiled a list of the most frequently asked questions that we hear often. If you a question not found below, please don't hesitate to give us a call.
We look forward to hearing from you!
How can chiropractic help me after an auto accident?
When you're in a car crash, there's a ton of forces applied to the body that the car can't absorb. That often results in whiplash of the neck and spine, as well as your body crashing into other parts of the vehicle. This puts a lot of stress and strain onto your body—especially discs and vertebrae. Even though you might not feel it, small accidents can lead to big injuries that build down the road if not addressed early on. It's our job to find the problem that occurred in your body as a result of the accident, and work to restore proper function to the area.
What type of injuries are common?
We often see things like whiplash, strained or stretched muscles, disc problems, back pain, shoulder injuries, and more.
Do I need a referral to see you?
No! You're free to make an appointment right now if you'd like. In fact, if you'll be using insurance, we'll help to coordinate your care with them to explain your benefits. Your care plan will be custom and designed to your body, giving you exactly what you need for success in health and proper healing.
Can I use my auto accident insurance policy in your office?
Yes, many people do use auto insurance coverage for care with us after an accident. We'll help you determine if this is best for you, or if it makes more sense to use your health policy.
Can you coordinate care with other doctors on my health team?
Absolutely. If we find that you should be seen by a different specialist, like an orthopedic doctor, we'll happily refer you to them while working closely to identify the best care plan for your injuries. If you already have a team of doctors, we're happy to share results and opinions as well as our care plan for you. At the end of the day, our goal is to get you back to feeling your best as quickly as possible—whether that involves care here or elsewhere.
We're Here for You
Our staff, along with Dr. Grossman, will assist you in managing your case. We will evaluate your condition and help you coordinate your care. If you require a specialist or additional imaging, such as an MRI, we can get you the care you need.
Contact our office today to discuss your options for care.
CONTACT US »

Auto Injury Chiropractor Dayton, South Brunswick, Highland Park, Rutgers Community NJ
Grossman Chiropractic & Physical Therapy